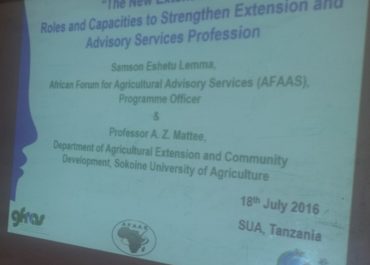 On 19th July 2016 in Morogoro, the AFAAS programme officer, Samson Eshetu had coordinated a seminar on "The New Extensionist and Agricultural Extension and Advisory Services professionalization at Global and continental level: Implication for Tanzania" for staff and post graduate students of the Department of Agricultural Extension and Community Development (DAECD), Sokoine University of Agriculture. The seminar was attended by three staff and five post graduate students. Participants also discussed on how to champion the New Extensionist learning kit and modalities for promoting, disseminating and mainstreaming in Tanzania. Subsequently, the what, why, how aspects of the New Extensionist was highlighted in the presentation. In addition, the information about the current status of writing the modules was enlightened for the participants. During the seminar, the participants had appreciated the initiatives of the New Extensionist by GFRAS and AFAAS. One important feedback drawn from the participants was to include practical case studies from grassroots level to make the learning kit more practical oriented. The staff members also appreciated the importance of the learning kits for teaching purposes.
Revitalizing Tanzania CF
During this visit, the programme officer had also undertaken a follow up with the Directorate of Extension, Ministry of Agriculture on CF revitalization in Tanzania.
Tanzania was one of the countries that championed CF establishment. However, currently the CF is not active due to relocation of the Focal Person to other Ministry, who was championing the CF process. During his mission, the programme officer discussed with Dr. Kesa, in the Directorate of Extension on ways of revitalizing the CF in Tanzania. In addition, was also highlighted that Tanzania had strong agricultural extension professional society in the past. However, it has been weakened in due course of time. To this effect, currently Tanzania is in the process of revitalizing the CF in collaboration with the Department of Agricultural Extension and Community Development along with reactivation of the Agricultural Extension society of Tanzania.
In this regard an international conference on agricultural extension has been planned before end of this year with overall purpose of revitalizing CF and Agricultural extension society in Tanzania. Once the date and venue have confirmed, the conference call will be shared with AFAAS and GFRAS for wider dissemination and promotion.