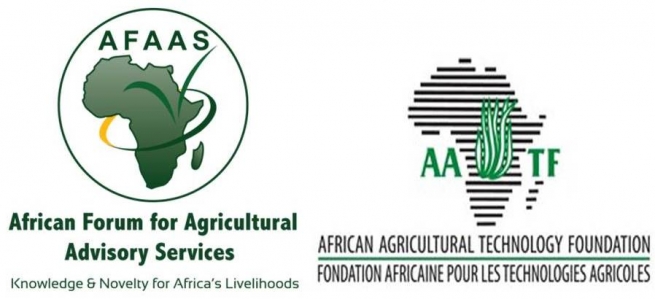 In its partnership policy framework, the African Forum for Agricultural Advisory Services (AFAAS) recently signed a Memorandum of Understanding (MoU) with the African Agricultural Technology Foundation (AATF) to host the project Officer of the Partnerships for Seed Technology Transfer in Africa (PASTTA) project in Kampala, Uganda. 
The project aims to promote new, improved varieties of a wide range of strategic crops, particularly publicly-bred varieties and building South-South links for local distributors and seed companies to offer to farmers in 5 countries (Kenya, Malawi, Mali, Senegal and Uganda) over the next 3 years. In Uganda, the project focuses on six crops namely; vegetables, Beans, Soybean, Groundnut, Pigeon pea and Cassava.
PASTTA is a Global Development Alliance (GDA) between USAID Feed the Future, Syngenta Foundation for Sustainable Agriculture, African Agricultural Technology Foundation and New Markets Lab. The project is part of the Syngenta Foundation's Seeds2B program in which local private sector is at the centre of the Seeds2B model.
This partnership matches with AFAAS strategic orientation and objectives in terms of developing and sustaining a wide and strengthened network of agricultural and advisory services actors that aims at boosting agricultural productivity in Africa.