SustainSahel to focus on good practices to integrate crops, shrubs, and livestock to improve rural livelihoods in Western Sahel
The overall goal of the EU-funded SustainSahel project is to promote practices which enhance soil quality and yields, build resilience towards climate change, and contribute to food security and better livelihoods.
AFAAS is a partner in the SustainSahel project with RESCAR-AOC based in the Sahel region. Mr Max Olupot, Partnership, Planning and Learning Specialist says: "The remit of our organisation is to promote lesson learning and professionalism, and add value to national agricultural extension and advisory service systems, and our role in the SustainSahel project is to ensure wide dissemination of the projects outputs. We look forward to joining our project colleagues in Africa and Europe to forward the aims and objectives of SustainSahel."
With 18 partners from 10 African and European countries, the project coordinated by FiBL- Research Institute of Organic Agriculture, Switzerland – is funded under Horizon 2020, the European Union's framework programme for research and innovation.
Harun Cicek of the Department of International Cooperation at FiBL and Coordinator of SustainSahel explains: "Systematic integration of crops, shrubs and livestock (CSL) together with organic and conservation agriculture practices, such as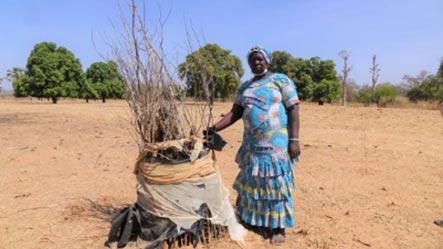 mulching crop residues and reduced tillage, have significant potential to enhance soils, yields and build resilience. For dryland regions such as the Sahel which provide food for millions of people, significant yield increases between 100 and 800%  are achievable by introducing, for example, woody perennials in arable fields to improve soil and water availability."
Working in partnership with farmer organisations and advisory services together with farming communities, SustainSahel will build on existing knowledge and related projects to establish seven farm study sites in Senegal, Burkina Faso, and Mali to validate existing and enable novel practices to emerge. The local actors involved with milk, meat, grain, cotton, and other regional value chains will be closely involved at all stages including at the seven Innovation Platforms where 'grass roots' issues will be identified, and solutions discussed.
"Women are shaping Western Sahel and savannah production systems," continues Harun Cicek, "and are key to ensuring that the SustainSahel project not only generates the new knowledge needed for transformation but also have a significant role in ensuring that knowledge is utilised. Women will take leadership roles in demonstration and piloting activities, workshops and focus groups, with the farmer-to-farmer training videos to be produced will help narrow the knowledge gap between men and women as well as between youth and elders."
The 5-year project is designed to contribute to achieving many of the UN's Sustainability Development Goals (SDGs) – SDGs 2,13 & 15 by developing and supporting implementation of practices to improve soil water capture/holding capacity and organic matter content; increasing  productivity through optimised crops, shrubs, livestock (CSL) integration, and climate mitigation. Through capacity and partnership development, networking and a multi-actor approach enhancing the conditions for innovation, Sustain Sahel will also contribute to SDGs 1, 5, 16 & 17.
"The project's overall aim is to boost the resilience and sustainable intensification potential of agricultural production systems in West Africa," concludes Harun Cicek, "and support fruitful co-operation across the Sahel as well as between African and European institutions."
Full project details are available on the project website. Follow news and release of images on the project's social media channels