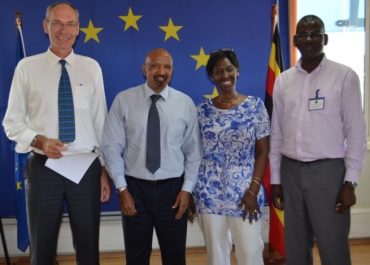 Following the recent appointment of Mr. Aloys Lorkers as head of section for Sustainable Development, the AFAAS team made a courtesy visit to the EU offices 22nd November, 2016.  The AFAAS delegation was led by Dr Silim M. Nahdy, Executive Director accompanied by Max Olupot, learning and Partnership Officer and Emmanuel Atenga, the Communication and Knowledge Management Officer. Whereas, Mr Aloys Lorkers was with Ms Jacqueline Uwamwiza, Operations Adviser.  The objective of the call was on one hand to brief Mr Aloys Lorkers to have an understanding of AFAAS and on the other hand, it was for AFAAS to raise achievements and specific issues encountered during the implementation of the MDTF II project funded by the European Union.
In his remarks, Dr Silim thanked the European Union for their continued support to enable AFAAS  pursue its general objective of "Agricultural Extension and Advisory Services (AEAS), to have sufficient capacity to effectively support value chain actors towards increasing agricultural productivity and food security in a sustainable manner".
After general welcome remarks and presentation of AFAAS, Mr Aloys Lorkers emphasized on challenges faced by extension and advisory services and suggested that  AFAAS should look at new directions for extension with ICT, private sector, promotion of research results and  value chain approaches. With these new directions AFAAS would contribute to jobs creation in rural and urban areas and reach the end users who are the smallholder farmers.