The African Forum for Agricultural Advisory Services (AFAAS) together with Uganda's Ministry of Agriculture, Animal Industry and Fisheries (MAAIF), and Uganda Forum for Agricultural Advisory Services (UFAAS) officially launched the 5th Africa-wide Agricultural Extension Week (AAEW) on August 18, 2021 that will take place from 14-20th November 2021 in Kampala, Uganda, and virtually.
The AAEW is a continental event to deliberate on strategic issues in agricultural extension and advisory services (AEAS) in Africa.  This year's the event is organized under the theme "Effective Agricultural Extension Systems for Sustainable Agripreneurship in Africa. 
The fifth edition of the Africa-wide Agricultural Extension Week 2021 will be co-hosted by the three partners with support from the European Union's International Fund for Agricultural Development (IFAD), The World Bank, and other partners.  Registration is now open here : https://cutt.ly/AAEW21Reg
Speaking at the launch attended by over 30 participants representing various AEAS actors in Government, Civil society, academia, and private sectors in Uganda, AFAAS Executive Director Dr. Silim Nahdy, underscored the relevance of partnerships for the AAEW and the contribution to the agricultural sector in Africa and beyond.
"The synergies between AFAAS, MAAIF and the development partners are strong," remarked Dr. Nahdy. "The fifth Agricultural Extension Week is a timely event to deliberate on issues in agricultural extension from different perspectives."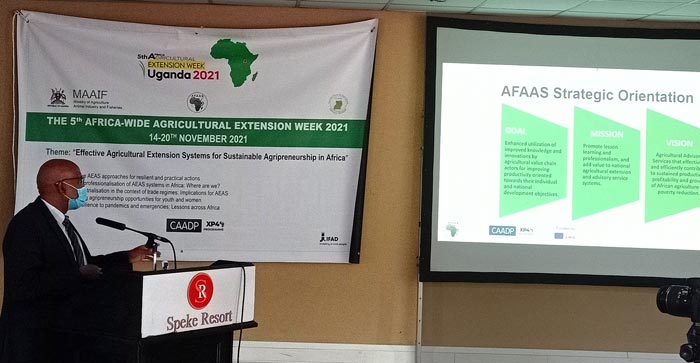 Representing the MAAIF, Hon. Fred KyakulagaBwino, the Minister of State for Agriculture, appreciated AFAAS for giving the Republic of Uganda the opportunity to host the Fifth AAEW, noting that the event is important not only for Uganda but for Africa as a whole. He also thanked UFAAS for the collaboration with MAAIF over the years.
Hon. Bwino highlighted the critical contribution of agricultural extension and decried the challenges faced by the sector including the wide ratio between extension. He assured the actors that Uganda's National Development Plan III (NDP III) has put agricultural extension at the centre of the agro-industrialization programme, and that addressing constraints faced by extension is a priority of the MAAIF. He called for concerted effort of relevant actors in the pluralistic extension system.
"I wish to re-assure everyone that the agriculture sector transformation is on course but to realise our end state will require support and cooperation of all of us." remarked Hon. Bwino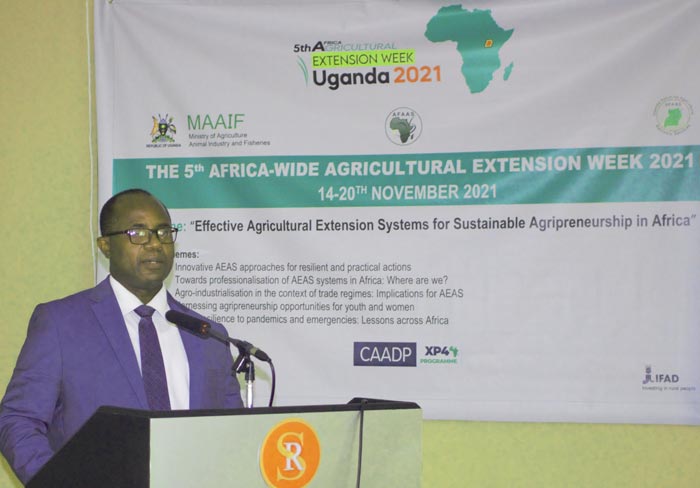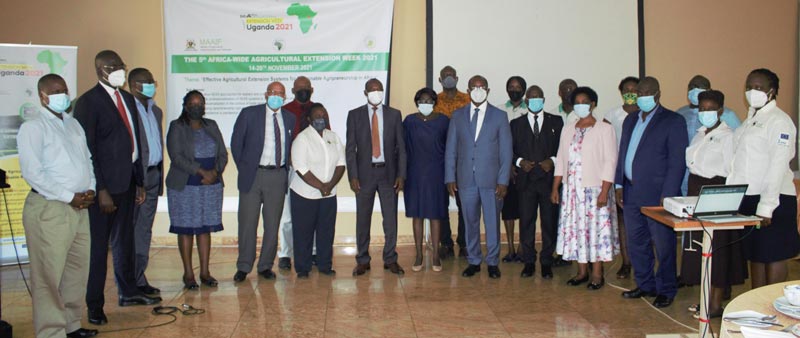 Follow event updates on social media platforms at hashtags #AAEW2021 and #AgriExtWeek21
About the Africa-Wide Extension Week
The Africa-Wide Agricultural Extension Week is routinely organized to collectively discuss solutions to  agricultural extension issues such as .  It is a platform for sharing experiences and learning amongst professionals of different disciplines with a stake in AEAS besides, strengthening interactions between  policy-makers and investors to develop  fruitful partnerships.
Furthermore, the AAEW is meant to provide a platform for deliberating on new developments, emerging needs in capacity development and defining strategic direction in agricultural extension and advisory services for the coming years.
So far, AFAAS has organised and held four successful AAEWs as follows:
The first week was held in Gaborone, Botswana in August 2013 on the theme "Value Chain Approach in Agricultural Development: Coping with new demands for Agricultural Advisory Services".
The second week took place in Addis Ababa, Ethiopia in October 2015 on the theme "Reinvigorating Extension Services for Market-led Agriculture within the Context of the Malabo Declaration".
The third week was held in Durban South Africa October/November 2017 on the theme "Scaling up climate smart agriculture: integrating youth, women, and the digital revolution".
The fourth week was held in Abidjan Cote d'Ivoire in 2019 in November 2019 on the theme "Private Sector and Agricultural Advisory Services Synergies for Sustainable Agricultural Development in Africa"
The fifth week will be held in Uganda under the theme "Effective Agricultural Extension Systems for Sustainable Agripreneurship in Africa: and sub-themes below:
Innovative AEAS approaches for resilient and practical actions
Towards professionalization of AEAS systems in Africa: Where are we?
Agro-industrialization in the context of trade regimes: Implications for AEAS
Harnessing agripreneurship opportunities for youth and women
AEAS resilience to pandemics and emergencies: Lessons across Africa
For more about the AAEW, please click (upload Concept note on website)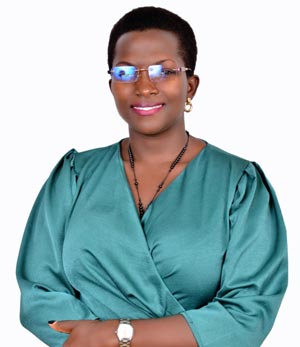 Compiled by Elizabeth Asiimwe
UFAAS Communication Information and Knowledge Management (CIKM) Unit