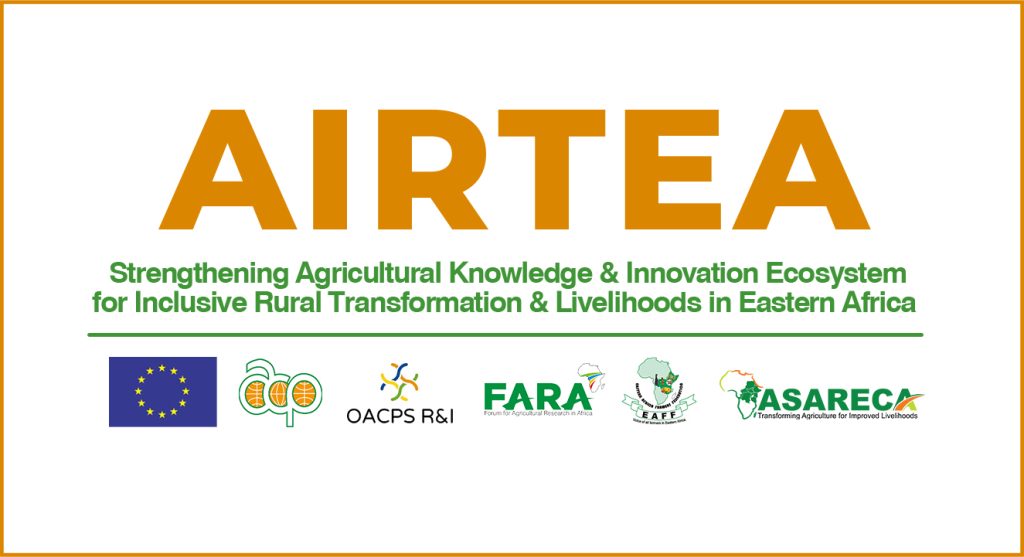 AFAAS's Digital Connectors for farming communities was among eleven (11) Third-Party Projects selected for the ACP AIRTEA Third-Party funding under the project "Strengthening Agricultural Knowledge and Innovation Ecosystem for Inclusive Rural Transformation and Livelihoods in Eastern Africa" (AIRTEA).
The AIRTEA project is coordinated by the Forum for Agricultural Research in Africa (FARA), together with the Association for Strengthening Agricultural Research in Eastern and Central Africa (ASARECA) and the East African Farmers' Federation (EAFF).
The AIRTEA project will be implemented in three countries (Kenya, Rwanda and Uganda is supported by the Organization of African, Caribbean, and Pacific States (OACPS) through the ACP Innovation Fund which is funded by the European Union (EU).
FARA, ASARECA and EAFF congratulated the consortia that conceived and developed the 11 third-party projects elected for funding.  Implementation of the projects is expected to start from March 1, 2022 and will run for two and a half years.
"We wish to register our strong appreciation of the 101 consortia that responded to the AIRTEA project call with proposals that were not selected.  We wish the consortia responsible for implementing the selected projects success in delivering the expected outcomes and impact of the AIRTEA project and look forward to working with them towards this goal," noted the statement announcing the winners of the funding.
The selecting process for the 11 projects was not a walk in the park. It entailed a rigorous and competitive evaluation process involving 112 proposals that were submitted in response to the AIRTEA call.
Below is a list of all the winners:
| | | | |
| --- | --- | --- | --- |
| No  | Name of Project | Lead Institution | Project country(ies) |
| 1 | Harnessing multi-stakeholder innovation platforms for knowledge transfer and aquaculture value chain development in Uganda | Abi Zonal Agricultural Research and Development Institute (Abi) | Uganda |
| 2 | Enhancing inclusive market access for African Indigenous Vegetable seed and value-added products by Smallholder farmers in Uganda | Uganda Christian University (UCU) | Uganda |
| 3 | Upgrading of silver cyprinid (Rastrineobola argentea) value chain through multi-stakeholder partnerships and novel climate-smart postharvest processing technologies and practices for improved rural livelihoods | Jomo Kenyatta University of Agriculture and Technology (JKUAT) | Kenya |
| 4 | Strengthening cassava innovation ecosystem and knowledge transfer for inclusive rural livelihoods development in Kenya, Uganda, and Rwanda | University of Nairobi (UoN) | Kenya, Rwanda, Uganda |
| 5 | Digital Connectors for farming communities | Africa Forum for Agricultural Advisory Services (AFAAS) | Kenya, Rwanda, Uganda |
| 6 | Unlocking productivity within small holder farming systems through use of geospatial technology (GIS), artificial intelligence and biological technologies in the face of climate change | Koppert Biological Systems (KBS) | Kenya |
| 7 | Promoting technologies and innovations for improving access to quality potato seeds by small holder farmer through strengthening potato seed systems and multi-stakeholder collaboration in Rwanda | Seed Potato Fund Joint Ventures Ltd (SPF) | Rwanda |
| 8 | Technology Transfer through Innovation Systems: Enhancing Smallholder farmers' capacity for profitable and sustainable potato production | Rwanda Agriculture and Animal Resources Development Board (RAB) | Kenya, Rwanda, Uganda |
| 9 | Leveraging The Benefits of Multi Stakeholders Partnership to Support Rural Women and Youth in Dairy Sector in Kenya | Cooperatives Alliance of Kenya | Kenya |
| 10 | Retaining next generation farmers in agribusiness through enhanced knowledge sharing platforms along with the dairy and selected grain value chains in Uganda | AGRENES (Agriculture, Environment, and Ecosystems) Limited | Uganda |
| 11 | Youth Leading Changes in Resilient Private Extension and Advisory Services for Job and Wealth Creation | Youth Engagement in Agriculture Network (YEAN) | Rwanda |