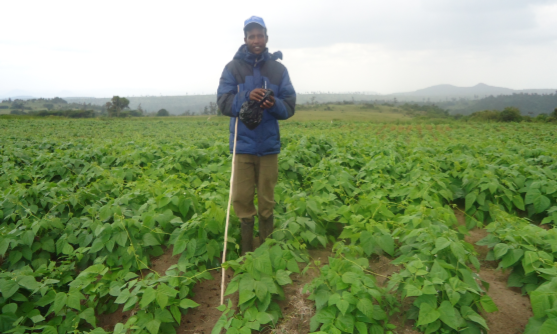 Ltoponua Leldimain is a young farmer in Samburu County in Kenya who heard an agricultural progamme on Serian FM and wasted no time calling up the presenter Nicholus Lenyakopiro.  Nicholus in turn referred him to Agriculture Extension Officer, Mary Lemaletian to answer specific questions about his bean farm.  The rest, as the saying goes, is history.
Ltoponua has been inconstant touch with Mary and he is planning to fence the farm and introduce a variety of crops.  "The best thing is being able to be food secure,'' says the newly married livestock herder turned farmer. " His father shared out a portion of his land and gave him permission to grow his own food.
This is a complete turn-around in Ltoponua's life.  Not too long ago he drove his family's large herd of cattle, goats and sheep across the plains of Samburu County, always in search of fresh pastures and water and today he anticipates an income from the farm even as he tunes in to the Serian FM weekly agricultural broadcasts.
Promoting radio programmes as a mean to reaching a huge number of farmers
He describes how he was able to overcome the challenges of a blight attack early on his bean venture by keenly following the recommendations from Mary, just as she had enumerated them during the radio programme.  "I went and bought the recommended spray, and applied it according to instructions," he says. Shortly after, he also overcame an aphid attack, thanks to what he learned on radio.
In its unique approach to agriculture programming, KiMI's Farmer Voice Radio (FVR) model the reach of extension services in remote areas is vastly increased at lower costs per person receiving information. Farmers participate by calling or sending short messages (SMS) to the stations during the live broadcasts or following up later with the agricultural expert on the show.
There is a huge demand for agriculture extension services among farmers, and where previously officers were limited by resources and distances, extension via radio has greatly eased access to farmers on the one hand, created a diversity of choices and provided a timely and efficient way to exchange information between the departments of agriculture and their clients.
Ltoponua'sencounter with Serian FM is replicated acrossthefive counties of Samburu, Marsabit, Garissa, Isiolo and West Pokot where KiMI in partnership with the Syngenta Foundation for Sustainable Agriculture (SFSA) is implementing a one-year projectwith the County Departments of Agriculture, Livestock and Fisheries to raise agricultural productivity in regions so far lacking major extension initiatives of this type. The participating radio stations include Serian FM in Samburu, Star FM Borana Service in Marsabit, Kenya Broadcasting Corporation's Rendille, Borana and Somali services covering Marsabit, Isiolo and Garissa counties as well as a more national reach through its digital platform.
InMarsabit, farmers easily identify with Koopi Qaabare, Borana for Farmers' Programme, a weekly live radio programme. According to Duba Nura, an Agriculture Extension Officer with the County Department of Agriculture, Livestock and Fisheries and a regular studio guest on the programme, the response is phenomenal: "The feedback we receive from farmers is overwhelming," he adds, "but the most gratifying thing about Koopi Qaabare is that farmers listen to the programmes then go back to practise on their farms what they learn."
E-extension replaces the old model
This is the true meaning of e-extension, when farmers combine the two versatile technologies, mobile phone and radio and put to action the information acquired. Says Duba, "Our phones don't stop ringing, and it is not just farmers calling but also stakeholders within the agriculture sector seeking ways to better reach farmers with products and markets."
At Kilimo Media International (KiMI), this question is approached from the standpoint that small holder farmers understand and appreciate concepts better when they hear them spoken in their local languages. One of KiMI's major selling points is being able to deliver agricultural extension services too hard to reach populations, effectively giving extension officers and agricultural experts a large platform to reach a greater number of people in a less labour intensive manner. The extension officers all admit that using the radio has enabled them to increase efficiency and effectiveness in their work.