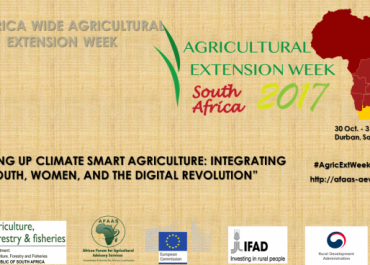 The African Forum for Agricultural Advisory Services (AFAAS) is organizing in partnership with the Department of Agriculture, Forestry and Fisheries (DAFF) and the South African Society for Agricultural Extension (SASAE) the 3rd Africa Wide Agricultural Extension Week from 30 October to 3 November 2017 in Durban. The conference, a first for South Africa, will be held at Southern Sun Elangeni & Maharani Hotel in Durban, KwaZulu-Natal.
This international conference will bring together extension and advisory services practitioners, farmers, researchers, institutions of higher learning from across Africa under one roof. The conference will be hosted under the theme: "Scaling up Climate Smart Agriculture (CSA): integrating youth, women, and the digital revolution"
AFAAS is a Continental body that brings National Agricultural Extension and Advisory Services (AEAS) under one umbrella. The SASAE is a scientific society, which in the interests of its members, is committed to the promotion of science and vocation of agricultural extension, through its members.
AFAAS held its first Extension Week in Gaborone, Botswana in August 2013, with the second Extension Week held in Addis Ababa, Ethiopia in October 2015.
Registration for the conference is still open on: http://www.sasae.co.za/registration2017.htm
For further information please contact:
Emmanuel Atenga
AFAAS Communications Officer
Tel: +256 312 313 400
Email: eatenga@afaas-africa.org
Or
Steve Galane
Director: Communication Services (DAFF)
Tel: 012 319 7960
Mobile: 083 635 7346
Email: SteveGAL@daff.gov.za