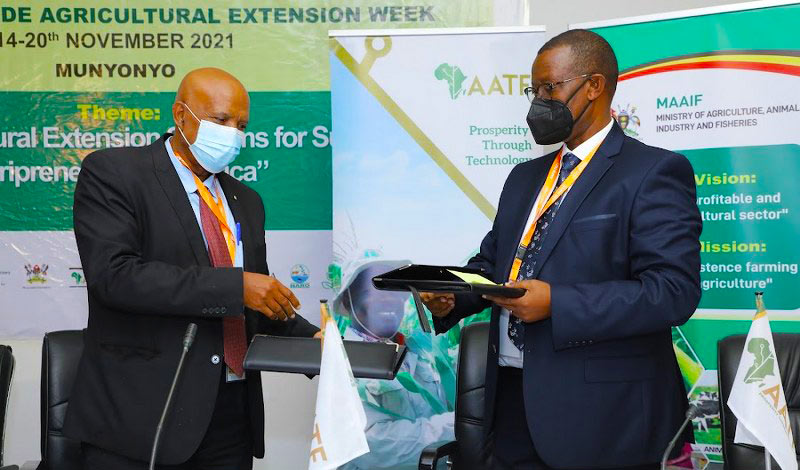 Kampala Uganda: On 16th November 2021, the African Forum for Agricultural Advisory Services together with the African Agricultural Technology Foundation (AATF) actualized their partnership by signing a Memorandum of Understanding to enable the two organizations carry out complementary research and innovation for Africa's smallholder farmers. This was during the 5th Africa Wide Agricultural Extension Week that was held at Speke resort Munyonyo.
The signing of the agreements was witnessed by the AFAAS board vice chairman Dr. Paul Fatch, Sasakawa President and AFAAS patron Prof. Ruth K. Oniang'o, the Senior Adviser Strategy and Growth at Global Office Farm radio international Mr. Rex Chapota and the extension week participants.
According to the Dr. Silim Nahdy, this five-year partnership agreement is aimed at enhancing utilization and adoption of productivity-enhancing technologies; value-added processes and, loss-reducing practices among smallholder producers in Africa.
"This agreement will establish a long-term relationship for purposes of carrying out complementary research, innovation, institutional development, and capacity building" says Dr. Silim Nahdy.
Dr Silim Nahdy, also stated that the agreement will help push cutting-edge agricultural technologies including biotechnology to the hands of farmers to enhance productivity and livelihoods.
According to Dr. Canisius Kanangire, the collaboration will see AATF and AFAAS develop training modules and materials for use by extension services providers; support development and implementation of product promotion and promote demonstration gardens for newly released varieties.
"The collaboration and partnership will go a long way in enhancing the mandates of the two organizations that seek to empower smallholder farmers across Sub-Saharan Africa with a wide choice of agricultural innovations that generate wealth and health for their families and communities." Says Dr. Kanangire.
Furthermore, the two organizations will jointly contribute to policy advocacy through provision of proven scientific information on agriculture extension and technology adoption in Africa. AFAAS and AATF agreed to focus on technology adoption, uptake and use including post-harvest management and advocacy on policy, regulations and legislation related to technology uptake and utilization.