Download the declaration here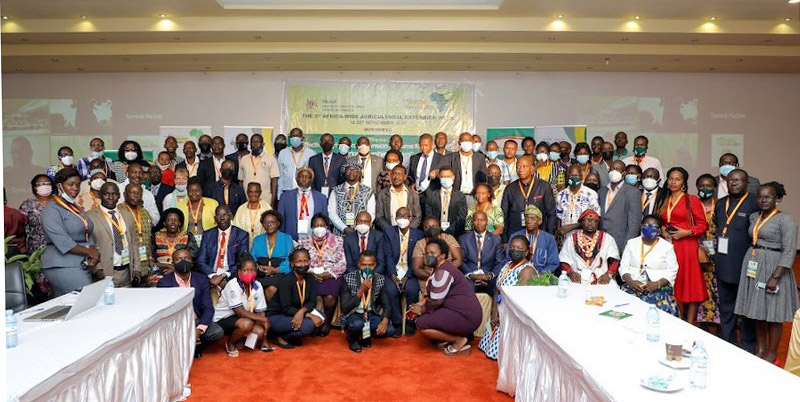 The 5th Africa Wide Agricultural Extension week 2021 is a continental event that brings together different participants from across Africa and globally to deliberate on strategic issues in agricultural extension and advisory services (AEAS) in Africa.
This year, the 5th AAEW 2021 Was held at Speke Resort Munyonyo Kampala, Uganda. Despite the impact of the Covid-19 pandemic, the event received over 375 physical participants and more than 600 online participants from over 16 countries in Africa i.e. Cameroon, Malawi, Mali, Zimbabwe, Kenya, Nigeria, Ghana, Sudan, South Sudan, Ethiopia, Democratic republic of Congo, Botswana, Japan, Tanzania, and Uganda. Extension organizations, development practitioners, researchers, Private sector organizations, universities, Farmer organizations, Media partners were part of this continental event.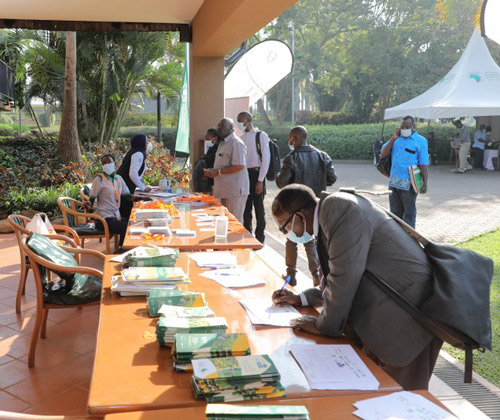 On 15th November 2021, seven side events discussing matters pertinent to agriculture extension were held by different organizations. Some of the the side events held included
Ranging from different discussions, extension has evolved and there is need to improve on the way we implement extension if we want to achieve better results.
The entire side event sessions offered great opportunities to come together to learn, and share experiences.
On 16th November 2021, saw the official opening of the 5th Africa wide agricultural Extension week 2021 with the arrival of the guest of Honor the Second Deputy Prime Minister of Uganda Gen. Moses Ali, and the Minister of Agriculture, Animal Industry and Fisheries Hon. Frank Tumwebaze.
While opening the Ceremony, the Second Deputy Prime Minister In his speech, called upon African governments to invest heavily in agriculture to make economic and security sense. He emphasized that effective agricultural extension systems should have initiatives that are aimed at counteracting the disproportionate service delivery especially to the women and youth whose livelihoods are worst hit in times of severe shocks. He also challenged delegates to come up with a communique that will capture critical issues and will be shared for member countries to take action accordingly.
Hon.Frank Tumwebaze challenged agricultural extension system designers to adopt a multi-stakeholder approach, adopt visibility of messaging strategies that attract the youth into the sector.
The Permanent Secretary from the Ministry of Agriculture, Animal Industry and Fisheries Maj. Gen David Kasura Kyomukama urged that Agriculture extension remains the heart and soul of the Agricultural sector and that no country can develop without developing the agricultural sector.
The participants also received a good will messages from the President of the Sasakawa Africa Association and AFAAS Patron Prof. Ruth K. Oniang'o who in her speech indicated the relevance of Agricultural Extension and encouraged collaboration for greater impact to improve rural livelihoods.
Ms. Aggie Konde, representing AGRA noted that the Extension was key towards achieving sustainable farmer livelihoods.
Good will Message from Dr. Sylivester Anthony Matema of Nile Basin Initiative who also underscored the relevance of agriculture extension and encouraged collaboration for greater impact to improve rural livelihoods.
This was later followed with a panel session discussing highlights from the high-level speeches. Moderated by Dr. Richard Miiro of Makerere University, the panel featured Dr. Kristin Davis a Senior Research Fellow at IFPRI, Dr. Carl Larsen of GFRAS, Dr. Joseph Oriokot of World Bank Uganda, Dr. Florence Nakayiwa of RUFORUM, and Dr. Paul Fatch of AFAAS. The discussion revolved around inclusion of youth into agricultural extension programming, engaging with governments and funding agencies to reinforce funding for agriculture extension, professionalizing of agriculture, retooling extension among others. The panellists also emphasized partnerships to create a stronger voice to advocate for agricultural extension and engage the next generation of farmers now for continuity.
Mr. Max Olupot the Partnerships and Planning Specialist at AFAAS together with Mrs. Beatrice Luzobe the CEO UFAAS shared experiences from AFAAS and Country Fora respectively highlighting their contribution to National Agricultural Investment Plans in the different countries.
The day's event was crowned with actualization of partnerships! AFAAS signed MoUs with Sasakawa Africa Association; Farm Radio International and African Agricultural Technology Foundation to enhance the impact Agricultural Extension  to improve rural livelihoods.
The 4th day of the Extension Week was graced with a good will message from HE. Amb.Josefa Leonel Correia Sacko Commissioner for Rural Economy and Agriculture of the African Union Commission, who emphasized that Extension staff are key players in the development process and are key to achieving the Malabo goals 2025.she also stated that the extension system in Africa faced numerous systemic challenges, numbers, and inadequate funding which in turn limit effectiveness in promoting small holders' farmers productivity.
Amb. Sacko applauded the African Forum for Agricultural Advisory Services (AFAAS) for advocating for extension on the African Continent and informed delegates that talks were underway to renew AFAAS's MoU with the African Union to enable it continue with the work of mobilizing effective partnerships for advancing agriculture extension and advisory in Africa.
Dr. Fred Muhanguzi from Ministry of Agriculture, Animal Industry and Fisheries  MAAIF updated on the status of Agro-industrialization in Uganda. He stressed the need to support the development of advanced productive alliances that strengthen the Public-Private Partnership model of Agro-industrialization.
Dr. Harold Roy-Macauley, the Africa Rice Director General and CGIAR Regional Director, East and Southern Africa shared about the ONECGIAR reforms, the progress of work in the region, and opportunities of working together.
Parallel sessions:
Parallel sessions were conducted and these sessions involved the presentation of research papers, posters, and case stories from different partner organizations based on the Extension week Sub-themes which were:
During the sessions, Interesting insights came up around the areas of professionalism, sustainability of projects, cost-profit extension models, value chain models, technologies, and approaches -e-voucher systems. Professionalism was considered key and that it should be defined in two categories: Technical and financial. Members advocated for member countries to have Extension policies in place which must be legislated with regulations and implementation plan be followed
I8th November was an exciting day for the participants at the 5th Africa Wide Agricultural extension week (AAEW 2021). Six field sites were visited and among the six field sites included;Kampala Capital City Authority (KCCA) demonstration farm  an agricultural resource centre for demonstrating urban farming technologies, The Uganda Industrial Research Institute (UIRI), a government parastatal organization under the auspices of the Ministry of Science, Technology and Innovation (MoSTI), Zirobwe Agaliawamu Agri-business Training Association (ZAABTA) – a higher level Farmers Organization (FO)
The National Crops Resources Research Institute (NaCCRI)– one of the six National Agricultural Research Institute (NARIS) under the National Agricultural Research Organization (NARO), National Livestock Resources Research Institute (NaLIRRI)-a public agricultural research institute responsible for research and related services in Livestock health, nutrition, breeding, socio-economics, marketing, and apiculture under the National Agricultural Research Organization (NARO), The National Farmer's Leadership Centre a training Centre under the Ministry of Agriculture, Animal Industry and Fisheries meant to mind-set transformation of farmer leaders, civic and political leaders and other categories of leaders, through mind-set change, and advanced agricultural technology transfer.
Following a series of activities throughout the week, 19th November was the official closing of the 5th AAEW 2021 with the Minister of state for Agriculture, Animal Industry and Fisheries, Hon. Kyakulaga Fred Bwino
The minister while in his address urged that there was need to make a move towards a robust and sustainable agro-industrialization to embrace agricultural extension and advisory services which also factors in ingredients such as ICT/digitalization, youth, women and private sector.
According to Hon. Fred, Uganda is now implementing the third national plan (NDP111) with the strategic goal to increase average household incomes and improve the quality of life of small holder farmers and Ugandans.
AAEW2021 DECLARATIONDownload below