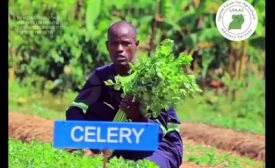 Meet Nehemiah Kamya Buwule and Derrick Tumuhimbise Buwule, youths applying Climate Smart practices in horticulture at their Farmacy farm. Located in Bungo village, Kakakala parish, Zirobwe subcounty, Luwero District in Central Uganda, the farm is a one stop centre for vegetables of all kinds. With their small savings and a soft loan from their father, the youthful brothers grow horticultural crops such as broccoli, lettuce, celery, eggplant, beetroots, and strawberries; bananas, and also rear bees.
Rural areas are rapidly changing – presenting new challenges for people who live there. Climate change is already causing reduced water availability, increased temperatures, uncertain or shorter growing seasons, diminishing arable land, and new pest and disease patterns.
To be able to produce all year round amidst the challenges, Derrick and Nehemiah use a combination of strategies. Harvesting rainwater, Drip irrigation, greenhouse production, mulching of the garden and planting in phase, planting drought tolerant crops, early maturing plants such as baby marrow and leaf lettuce etc. The practices have enhanced agricultural productivity, while improving resilience to climate change. According to Derrick, drip lines ensure that all the water fed to crops is utilized while the mulching prevents evaporation and drying of the soil surface
They sell the farm products to urban centres such as Nakasero market, and to corporate offices on order: There are many consumers in Kampala who like to eat nice things. I have orders to supply them every week with a basket of broccoli, lettuce, strawberries"
According to Derrick, information on these CSA practices was obtained from different sources. Practices of mulching and digging of bunds was learnt from their father, an experienced farmer, while technologies for green house and hybrid seed were learnt at the National agricultural show in Jinja. The handson practices were learnt from Katono Maggie, a fellow famer in Gayaza (about ..km away). In addition, information such as pruning strawberries is obtained from the internet given as there aren't many strawberries farmers to learn from.
Challenges encountered by the two brothers include:
weather changes especially the dry spell which reduces productivity by over 30%;
high prices of National grid water which increase the cost of production, and
low prices of some crops. And the market is far away from the farm in City centres
Pests and diseases especially in the open field. They resorted to planting crops that fetch a higher price. According to Derrick, diseases are not the major problem. Farmacy adopted integrated Pest management practices, and use a mix of both organic and inorganic fertilizers and pesticides. They manufacture their own fertilisers at the farm from marigolds, kitchen refuse of banana peelings, cayenne pepper which are left to decompose for 1-3 months. Derrick says that a concentrate of these concentrate is mixed in five parts of water and sprayed onto the plants.
Nehemiah says he has benefited a lot from the farm.
Has provided employment to four people on the farm, and over 100 visit the farm and request for training to replicate the farming concept
The farm is my job, and I earn income from it. Buwule quit a job to start farmacy and he says he does not regret it. "The money from the farm has helped me to put up a farm house and buy two plots of land".
Quality food. The family now eats healthy food. "This kind of food is not easily accessible to many families". We now eat fresh, healthy and nutritious food"
Besides, Farmacy has proven that farming is a respectable and honoured venture.
Networking: The farm has linked me to more than 180 farmers and over 20 farmer groups across Uganda, and international exposure. "I won all an expense paid trip to Germany for 3months because of this Farm"
 These practices have led to an increase in production and more income. " I now get more money"  While my parents pay school fees, they do not pay for their necessities. We grow vegetables and get money and use it as pocket money at school" said Buwule.
Derrick has some advice for the youth. "The youth out there, never undermine any job because it can be a great starting point. Just be humble.  You need to trust nature for example harness water and the sky will be limit.
Nehemiah said, " We should change our farming practice bse of the changing climate patterns in order to ensure sustainable agriculture.we should be able to produce more with less while increasing our adaptability and resilience"
Matt.13.16 – "But you have God-blessed eyes–eyes that see! And God-blessed ears–ears that hear! When at the Farmacy, your eyes are blessed to see and your ears to hear from us, concluded Buwule.