The Uganda Forum for Agricultural Advisory Services (UFAAS) in partnership with the Ministry of Agriculture, Animal Industry and Fisheries (MAAIF) and the African Forum for Agricultural Advisory Services (AFAAS) launched the National Agricultural Extension week 2023 on 31st March, 2023. Under the theme, "Unveiling innovative pluralistic AEAS approaches: Actors' resilience and competitiveness for food security and commercialized agriculture", the launch took place at Kabira Country club in Bukoto, Kampala. It was supported with funding from USAID Feed the Future Institutional Strengthening and Systems Activity, the Alliance for a Green Revolution in Africa (AGRA) Uganda, and other partners.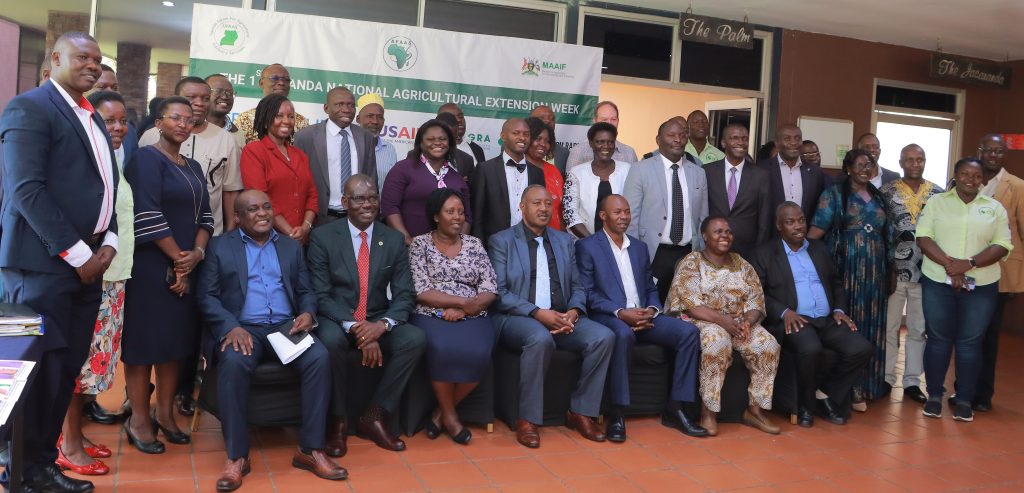 According to UFAAS CEO Ms. Beatrice Luzobe, the event is scheduled to take place on 22-26 May 2023 and is expected to attract over 1,000 AEAS actors for regional and national events.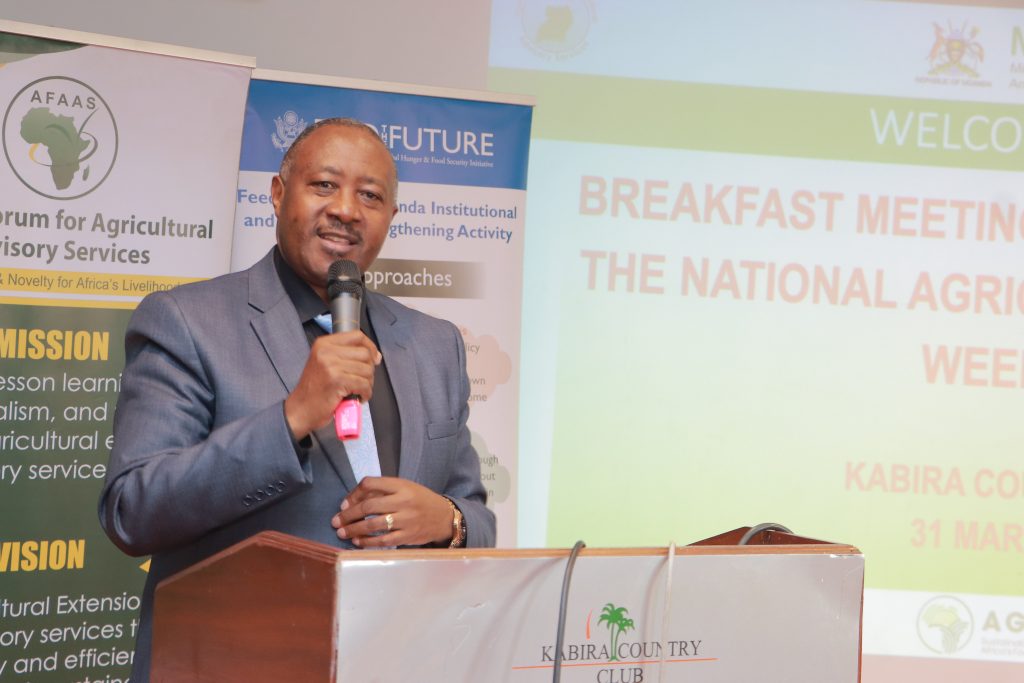 While officiating at the launch, Mr Stephen Byantwale, Commissioner Crop Protection, representing the Honourable Minister of Agriculture, Animal Industry and Fisheries said that the national agricultural extension week is an opportunity for agricultural extension stakeholders to deliberate on the current status of Agricultural Extension and Advisory services in the country and find effective means to address these challenges.
He reiterated and urged the stakeholders to guide farmers and come up with innovative solutions like the digitalization of extension services so that people have viable business modules to address the current challenges in the sector. Mr Byantwale also informed the participants that the Government of Uganda through the Cabinet guided on six priorities in agriculture, and mentioned that these require a strong and coordinated extension system as well as a conducive enabling environment to spur agricultural development. The six priorities mentioned were: Research, Appropriate Mechanization, Farmer Education, Control of pests, diseases and vectors in crops, livestock and fisheries, Affirmative action for fisheries and aquaculture, etc
He further updated the participants that the extension bill was still in process and would be presented to the cabinet when ready.
Mr. Olupot Max, the Director of Programmes at AFAAS in his welcome remarks noted that Agricultural Extension Globally has gone through a lot of transformation and that the theme "Unveiling Innovative Pluralistic Agricultural Extension and Advisory Services anchors extensionists into the need to do things differently if they wanted to achieve different results.
"The National Agricultural Extension week should bring farmers on board to articulate on demanding issues so that as Extensionists, we should be able to support and deliver demand-driven Agricultural Extension Services" he said. He also encouraged participants to network and build stronger partnerships.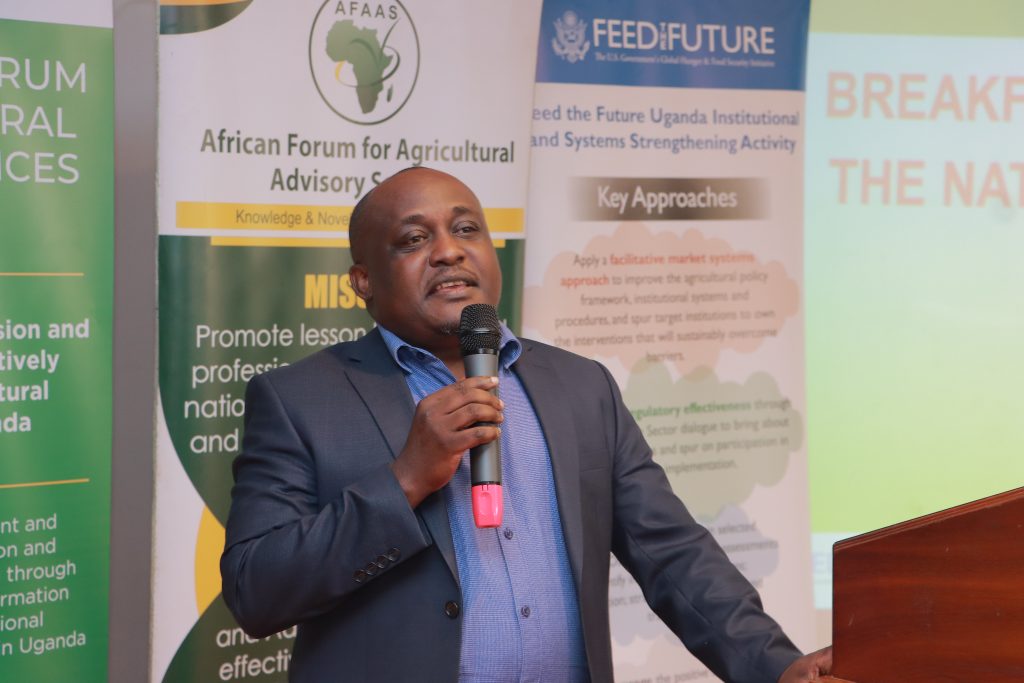 Speaking at the same event, Mr. Anthony Nyungu, the Chief of Party of Feed the Future, Institutional & Systems Strengthening Activity Uganda echoed the commitment of USAID FeedtheFuture ISSA to support strategic contributions to the agricultural sector in Uganda. He noted that the agricultural sector is currently faced with many challenges, underscored the role of extension, and called for professionalization of agricultural extension and advisory services.
" Whether we have resources for inputs and good research, with all the challenges of food insecurity, it all goes back to the need for effective extension services. There is no way we can see the desired results without seeing the quality of the labour that is needed to turn the inputs into the necessary outputs we want to see", he reiterated. Mr Nyungu further called for stronger partnerships and called upon actors to identify institutional, capacity gaps, policy reforms and opportunities required to professionalize agricultural extension service delivery and pledged to partner on this front.  "We recognise that no institution is an island. We have to work in a synergized manner as actors in Agricultural Extension and Advisory Services (AEAS). We commit to partner because the strategic aspirations of UFAAS are aligned with the mandate of the FeedtheFuture ISSA" he added.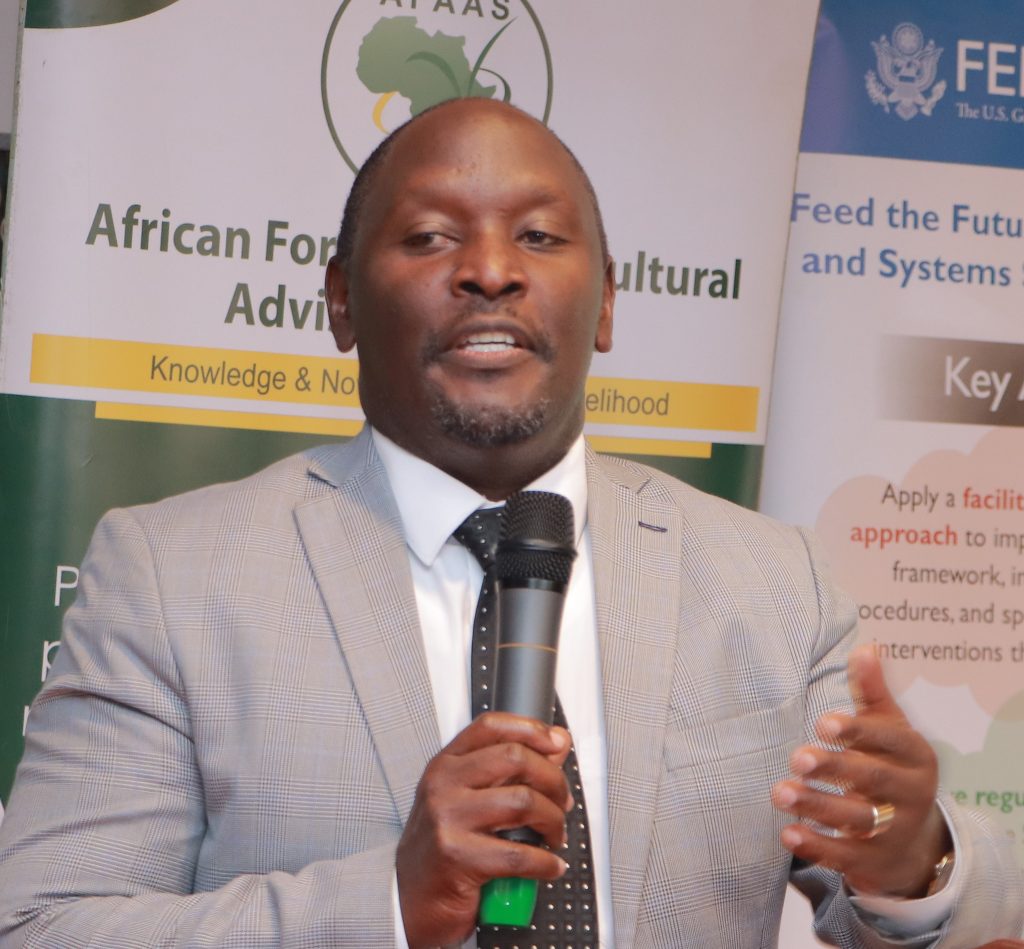 Furthermore, Dr John Jagwe, AGRA Country Manager highlighted the role of agricultural extension in the transformation of agriculture, and indicated that AGRA has been passionate about agricultural transformation. He further noted that AGRA piloted the Village Agent Model which has yielded inspiring results that have transformed the livelihoods of women and men. Dr Jagwe applauded UFAAS for enabling a platform for engagement with different stakeholders, and pledged continued support of the activities  "We are happy that you are creating a platform to exchange ideas, to discuss and see how we can transform agriculture through the agricultural extension angle. Let's keep the momentum going" he concluded
Other speakers included Ms Adeline Muheebwa, UFAAS Board Chairperson; Mrs Beatrice Byarugaba, UFAAS Patron and Former Director of Extension at MAAIF;  Dr Opolot Henry Nakelet, the Acting Director for Agriculture Extension at MAAIF, and Ms Consolata Acayo the Assistant Commissioner for Communication and Information at MAAIF.
More information:
See event highlights on social media using #AgricExtUg2023
Photos from the event can be viewed here
Follow event proceedings in the video recording here
About the Uganda National Extension Week.
The Uganda Forum for Agricultural Advisory Services (UFAAS), in partnership with the Ministry of Agriculture, Animal Industry and Fisheries (MAAIF) and other partners, annually organizes National Agricultural Extension Symposium that bring together over 200 different actors and stakeholders to deliberate on AEAS issues critical to agricultural development. The concept of the National Agricultural Extension Week 2023 was developed during the 3rd National Extension symposium held in July 2020 as an e-event, given the prevailing situation of COVID-19. Due to the stabilized situation, the 4th National Extension symposium has evolved into an extension week and renamed the Uganda National Agricultural Extension Week (UG-NAEW 2023). The event will be a hybrid (physical and virtual) from 23rd – 26th May 2023. Pre-event workshops will be held at the regional level all over the country from 10th-30 April 2023.
The objectives of the Extension Week 2023 are to:
To identify and highlight the various innovative pluralistic AEAS approaches that are building actors' resilience and competitiveness 
To deliberate on the resilience and competitiveness capacity gaps among the different value chain actors.
To motivate/stimulate different participating value chain actors and beneficiaries towards greater resilience and competitive actions for food security and commercialization. 
To raise priority AEAS policy and practice recommendations for building actors' resilience and competitiveness.
The National Agricultural Extension Week is organized to collectively deliberate on potential remedies to effectively address agricultural extension issues through; sharing lessons, knowledge, technologies and innovations, along five sub-themes namely:
i. AEAS interventions and support mechanisms for addressing resilience and competitiveness 
ii. Leveraging on and strengthening public programmes and projects. 
iii. Viable Business development and support services for farmers and other users of AEAS services. 
iv. Women and Youth engagement and opportunities in the agricultural value chain as actors and beneficiaries. 
v. Digitalized AEAS in Agriculture as a driver for agricultural growth. 
The 4-day event will host regional workshops, a plenary focused on the keynote address, presentations in specific thematic areas, discussions in breakaway sessions, and field visits. There will be workshops focused on each of the Sub-themes, these will be complemented with co-creation activities, such as World Café / shift and share, exhibitions, and networking.
About the Uganda Forum for Agricultural Advisory Services (UFAAS)
The Uganda Forum for Agricultural Advisory Services (UFAAS) is the country chapter of the African Forum for Agricultural Advisory Services (AFAAS) in Uganda. It is a forum that brings together a wide range of actors involved in Agricultural Extension and Advisory Services (AEAS) in Uganda. UFAAS was launched in May 2011 and is registered in Uganda.
UFAAS is one of the recognised NSAs that has a general objective of contributing to the MAAIF agenda by bringing together public and private AEAS actors including academia, schools, NGOs, civil society, farmer organizations and media. AFAAS is the umbrella network organisation for AEAS in Africa. It operates within the framework of the Comprehensive Africa Agriculture Development Programme (CAADP), with a focus on Pillar IV.
Article compiled by:
Elizabeth Asiimwe, Uganda Forum for Agricultural Advisory Services and Sharon Ibenu, African Forum for Agricultural Advisory Services
For more information on UFAAS, please contact:
The Chief Executive Officer, Mrs Beatrice Luzobe
Email: ufaas2013@gmail.com or  ufaascf@afaas-africa.org
Website: www.ufaas-ugandacf.org
Tel: +256776801091 /704052148