Farming is not just a way of life, it can also be a profitable business adventure. Agriculture is an essential sector of the economy, providing food and raw materials for families and industries across the world. In recent years, there has been a growing interest in farming as a business and many civil servants in Malawi after retiring, they embark on farming but not all make profits from this farming business. Running a successful farming business requires a combination of agricultural expertise, business mind and willingness to adapt to changing market conditions. With right approach, some farmers have turned their passion for farming into thriving and profitable business.
Mrs Ema Nkhoma, a retired teacher and widow from Masumba village Traditional Authority Mkanda is one of the farmers who benefited by being a member of Nkhunguyembe Cooperative. She was born on 15th May 1948 and has five children. Her husband died when she was still a teacher and she retired in the year 2008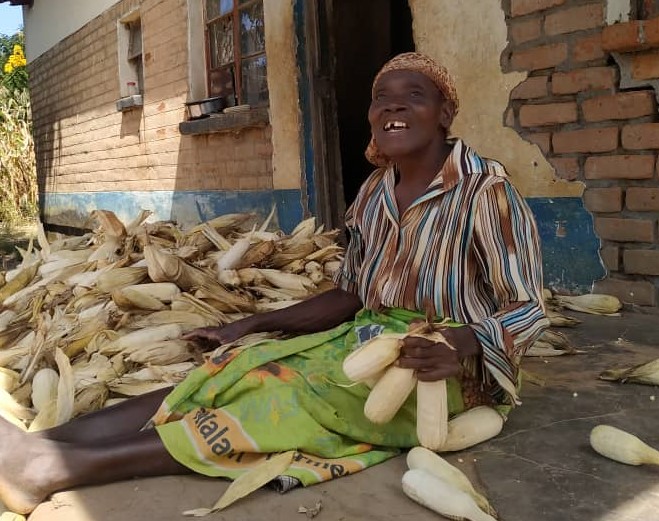 After retirement, life started getting harder as she could only rely on her retirement wage as a pensioner. "I decided to venture into farming so that I could supplement my dairy needs" said Mrs Nkhoma. She has 2.5ha of land that she uses for farming, she grows maize and G/nuts as her major enterprises. During her early years as a farmer, Mrs Nkhoma could not realize enough retains from farming due to the use of traditional farming practices. Things started improving when she joined Nkhunguyembe cooperative and acquired agribusiness training. She started adopting new agricultural technologies and keeping records of transactions. ''I started applying mbeya manure to my maize fields, Mbeya manure is simple to make, i combine 1 pail maize bran, 1 pail manure, 1pail ash and 10 kgs fertilizer then mix using 5-10 litres of water and put in plastic sack for 21 days. I adopted double row planting in groundnuts field with good management, 'she said. With these technologies, she now harvests triple compared to past yields. " I used to harvest 2 oxcarts of maize from 0.4ha of land but now I reach 6 from the same land," said Mrs Nkhoma. Last season she realised K1500000 from maize sales and K1000000 from ground nuts sales.
From her farming, Mrs Nkhoma has made a number of achievements. She bought 4 goats and they are now 10, she bought 10bags of cement which she used to renovate her house. Furthermore, she managed to send her children to secondary schools and colleges. Currently she is a happy mother, staying in a decent house and her living conditions have improved because of embracing farming as business.
Though being successful, there are challenges that she has been facing. High cost of agricultural inputs such as fertilizers has been a challenge and to overcome this she has been applying Mbeya manure. The other challenge is fall arm worms which attacks maize at a tender stage. When this becomes severe, yields are reduced greatly. ''I make sure I buy necessary pesticides and apply to avoid yield loss,'' she said. Lastly another challenge is marketing which affect most farmers hence she made a decision to join cooperative so that she can sale in bulky jointly with fellow cooperative members and they are able to bargain when selling their commodities.

She further encouraged fellow farmers to join cooperatives and associations to earn more from their produce this helps to have more bargaining power and also to reach out to profitable markets, it also helps to purchase farm inputs collectively at affordable price. The cooperative also helps farmers to get farming loans to boost farming capital.

Written by: Edgar Banda and Richard Malipenga. Mkanda Extension planning area Agriculture Extension Development Officers.
Edited by: Aubed Kang'ombezulu, MaFAAS CIKM.