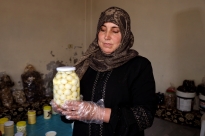 17/01/2023: Kawkab Al-Yassin's entrepreneurial initiative in rural Homes has been a lifeline for her neighbors. The mother of three from west Al-Farhaniyah, rural Homs, is making use of her knowledge to manage a production network of 'mooneh' – homemade preserved food-, and has successfully used this initiative to create up to 14 jobs for women in her village.
"I started this small project to produce 'mooneh' to support myself and the women in my village to earn an income, they are the only breadwinners for their families." said Kawkab whose enthusiasm towards a better life has driven her to FAO's Farmers' Field Schools, implemented under the Smallholder Support Programme (SSP) and funded by the EU, to turn her 'mooneh' small project into a profitable enterprise.
"The school taught me a lot! I learned the importance of measurement and calculation – the weight of my cows, cost, gains and losses," said Kawkab "It has been an opportunity for me to exchange ideas from other women in the group, and discuss the potential with FAO's experts to upscale my business," she added, as she learned new production and marketing skills to maximize the profits: "Instead of selling my cow's milk to middlemen, I learned it was better to make cheese or yogurt and sell the product myself. I also learned how to make Circassian cheese and introduced it to the market. It was very popular!" she adds.
Her motivation has influenced other women to follow her path, they consulted Kawkab about their ideas, who in return has always been helping her community by mentoring the women to master the skills she knows. Khadija Al-Yassin, Kawkab's sister, is a widow and a mother of four, she says: "Working with Kawkab has been very convenient to help me earn an additional income to feed my children and keep them in school. As well as I can I stay home to take care of my children when they return back from school," she explains.
While the situation is far from perfect, any contribution to these women's livelihoods is welcomed. "Being able to help others makes me happy!" said Kawkab. "The work that the mothers do provides their children a healthy diet and a good education, and keeps them off the streets." she concludes.
FAO's Farmers' Field Schools encourage farmers to adapt a better agricultural, production, and marketing practices, aiming to shift their mindsets towards profitable thinking. The Organization implemented 150 schools in four governorates across Syria (Al-Hasakah, Aleppo, Deir ez-Zor, and Homs), reaching more than 2 600 beneficiaries, almost 75 percent of whom were female. The schools successfully aided the beneficiaries in reducing the cost of inputs by 35 percent and ultimately achieved a remarkable difference in their net results, which helped them turn their losses into net profits, and directly affected the improvement of their lives and their communities.
Read more https://www.fao.org/syria/news/detail-events/en/c/1628320/
Kawkab's story video https://www.youtube.com/watch?v=cV_rV_Owih8&list=PLzp5NgJ2-dK7mHIH-lJFMUbC2X_Cjuywc