Winfred Khwangwala, 66, is married, with 5 children and 4 grandchildren. He is a community-based facilitator and gender champion for Malamulo Farmer Field School (FFS) at Helemani Village, Traditional Authority Khwethemule in Thyolo. He became a full- time farmer in the year 2017 following retirement from his profession as a Printer at Malamulo Publishing House where he served for 41 years.
When the farmers were setting up Malamulo FFS  in 2018, Khwangwala was elected a leader for the group because of his curiosity about agriculture initiatives in the village.  Malamulo Farmer Field school comprises of 21 farmers, eight men and 13 women. The group is currently growing maize, groundnuts and sweet potatoes.
The FFS is an extension approach built upon principles of adult education and experiential participatory learning processes. The approach  provides a forum for farmers to meet and discuss issues and experiment together on possible solutions that they can implement themselves.The FFS enables the farmer to learn  and share knowledge and skills on various technologies  based on  farmer -led research.
A recent gender analysis  conducted by Self Help Africa  with funding from European Union (EU) under the Kutukula Ulimi m'Malawi (KULIMA) Better Extension Training Transforming Economic Returns  (BETTER) Project revealed that the prevalence of Gender Based Violence (GBV)  is 35.2% higher in the 10 KULIMA districts than the national prevalence rate of 34%.The 10 KULIMA districts are Karonga, Chitipa, Mzimba ,Nkhatabay, Kasungu, Salima, Nkhotakota, Thyolo, Mulanje , and Chiradzulu.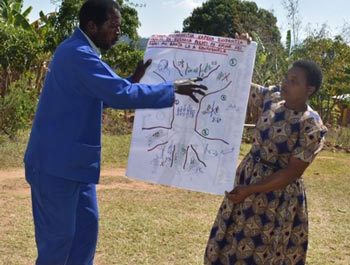 In order to address the challenges BETTER project adopted the Gender Action Learning System approach (GALS)to promote gender equality, challenge gender norms that lead to gender-based violence and engage men as champions of change in championing gender equality.  The GALS is a community led empowerment methodology that will address GBV among farming households and its adoption in the BETTER project will significantly reduce incidences of GBV in the 10 KULIMA districts
"During the GALS training, we used tools and diagrams to record the participants' personal lives. We identified individual visions which we merged into a soul mate vision for two people in a household. We then looked at members of a household followed by labour allocation and who controls what at household level. The visual approach gives a useful view of where imbalances lie," Khwangwala recalls.
Before GALS Approach Training
Khwangwala notes that he used to be a lion of the house and inconsiderate to his wife and children. . He used to be the only decision maker in the house and emotionally abuse his wife by constantly cheating on her and denying her resources. Even though Elizabeth would contribute to the income of the house through village savings, she did not have a say with regards to how the money will be spent in the house.
After GALS Approach Training
Barely seven months after GALS training, Khwangwala and his family has noted changes in perception of gender issues. "The GALS training has changed my thinking; I can respect my wife now.  Our life has improved in terms of productivity because we bring our resources together, plan together and contribute to savings as a household. How I wish I had learnt about GALS when I was in my thirties, that time I was strong and full of life and we could have achieved more," lamented Winfred in appreciation.
 Using the GALS tools, his family has  mapped out their vision by the year 2021. They would like to build a good modern house with electricity and they are working out the steps they need to  take for their goal to be achieved.
 A change agent beyond community to a  national level agent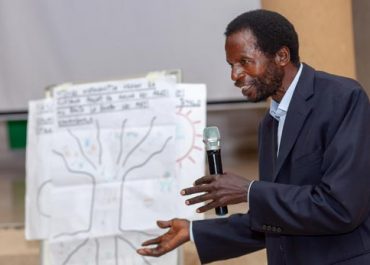 Khwangwala has moved beyond just being a community agent  through  educating other families about gender issues. He is now sharing his experience at national fora.  He presented during last year's Malawi Forum for Agricultural Advisory Services farmer and extension conference that was held from 11th to 13th September 2019  under the theme : Acting on Farmers' Voices for Agricultural Transformation".
Khwangwala narrated his story how his life got transformed because of the trainings of visioning and gender based violence  and the use of GALS model.
He said gender-based violence is real and that men have a role to play in ending it. He also demonstrated to the participants how to use  a gender balance tree and vision tool.
Khwangwala is one of the beneficiaries of the KULIMA BETTER project. Self Help Africa (SHA) is part of the national Kutukula Ulimi M'Malawi (KULIMA) programme which is co-funded to the tune of €111,000,000; with the European Union contributing €100,000,000. KULIMA programme  has four main implementing partners: Ministry of Agriculture ,Irrigation and Water Development, Food and Agriculture Organization of the United Nation (FAO),Deutsche Gesellschaft für Internationale Zusammenarbeit (GiZ). SHA is implementing the KULIMA  Better Extension Training Transforming Economic Returns (BETTER) project in collaboration with Action Aid Malawi, Adventist Development and Relief Agency, Plan International and Evangelical Association of Malawi. The overall objective of KULIMA BETTER project is to 'increase resilience, food, and nutrition and income security of 402,000 smallholder farmers in the 10 KULIMA districts. The project which started in 2018 has now reached 4,970 farmer field schools . SHA is a member of the Malawi Forum for Agricultural Advisory Services and has been part of the organizing committees of the MaFAAS conferences.