South Africa has more than three million farmers but only 1989 public agricultural extension officers to keep them connected to government support. While the number of extension officers has increased due to the recruitment drive through the implementation of the extension recovery plan (ERP), producers at subsistence and smallholder level are still serviced through a low extension to producer ratio.
The Department of Agriculture, Land Reform and Rural Development developed a program for 3 months to appoint 10000 unemployed agricultural graduates as Assistant Agricultural Practitioners (AAP's) to assist government to reach the target of 1 extension officer to 250 farmers (1:250). 5000 AAPs were to be recruited in the first cycle of 2022-23 financial year. The graduates are placed at the different provinces and deployed with various agricultural institutions in the sector like Agricultural Research Council (ARC), the Association of Veterinary and Crop Associations of South Africa (AVCASA), Grain SA, and the South African Sugar Research Institute and the South African Poultry Association, among others
INDICATIVE ALLOCATION OF AAPs PER PROVINCE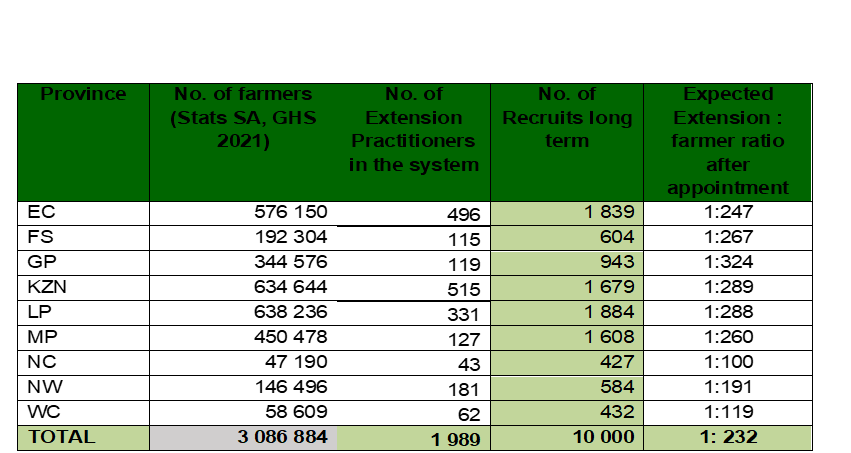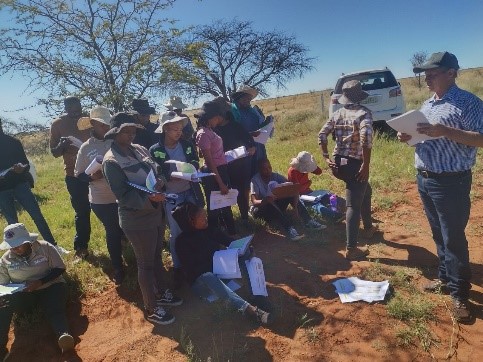 The AAPs were appointed to enhance government's drive in; a) rendering general agricultural advice to farming clients to ensure sustainable development, b) assist in providing technical support in all agricultural projects, food security initiatives and land development support programmes and assist with planning, advice, facilitating of training and after care, b) assist in promoting a pluralistic approach and partnership with relevant agricultural stakeholders and organized agriculture, d) assist in promotion of sustainable production of agricultural products, and provide administrative and related functions.
The AAPs are playing a crucial role in service delivery as farmers are getting appropriate services, which is according to their needs towards optimal production and profit. This initiative of recruiting the Agricultural graduates has reduced the workload of the Extension Practitioners and unemployment rate in the sector. AAPs are also gaining work experience in this program, although the program is very short to enable them to get exposure
Article written by Thembi Ngotho-SARFAAS