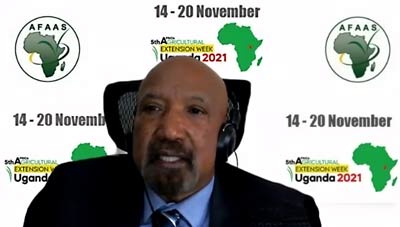 The 5th Africa-Wide Agricultural Extension Week (AAEW) is scheduled from 14-20 November 2021 in Kampala, Uganda with the participation of a variety of players including policy makers, development partners and implementers agricultural extension programmes.
The AAEW is co-hosted by the African Forum for Agricultural Advisory Services (AFAAS) and the Government of Uganda. The President of the Republic of Uganda, H.E. Yoweli Museveni will be the Guest of Honour.
The week-long conference will bring together about 600 participants from across Africa and beyond including representatives from governments, development partners, the private sector, youth and women organizations, civil society organizations, research and academia to discuss the trends in Agricultural extension and advisory services in Africa. 
 This conference will be a hybrid event with some participants in physical presence while others will join sessions virtually via zoom Meetings, according to Dr. Silim Nahdy, the Executive Director of the African Forum for Agricultural Advisory Services.
While extension and advisory services are critical for facilitating smallholder and enterprise access to market in the adoption of technology and knowledge, they are especially promoted to play a brokering role to support inclusive multi-stakeholder innovation processes – linking key actors such as producer organizations, researchers and agribusiness with producers.
This year's conference is being held under the theme, 'Effective Agriculture Extension System for Sustainable Agroprenuership in Africa' which reflects the current situation on the continent. Climate change, high population growth, rapid urbanization, limited agro-industrialization and value addition are some key challenges impacting on the growth of the extension and advisory system in Africa.
Innovations to boost resilient agricultural practices
The first theme of the conference is expected to highlight some progress made and some challenges facing a number of countries in adopting and implementing Agricultural innovative approaches to facilitate resilience.
The second theme will discuss the need to develop professionalization of Agricultural extension systems.
These approaches oriented toward changing agriculture practices are crucial components to food security and sustainable food systems in Africa.
Professionalisation of the extension system
While the African Forum for Agricultural Services (AFAAS), has a mandate for advising on extension services, professionalism in this particular area is considered as a key to constantly upgrade capacity of actors involved in the Agricultural extension systems by putting in place some regulatory mechanism, registration system.
"In the past agricultural extension has not been considered as a profession and to consider something as a profession first of all you need to have strong capacities and regulatory registration mechanisms," he said.
Agricultural entrepreneurship 
The high-level event also aims at fostering exchange among stakeholders on knowledge and best practices regarding the interfaces between agriculture, youth and employment, entrepreneurship, according to organizers who are emphasizing to develop an agricultural extension model with the purpose to create opportunities for youth and women.
According to Dr. Nahdy, African youth are looking forward to starting agri-business ventures but are let down by financial institutions that are reluctant to release money to finance farming ventures yet this category represents the highest number of African population.
The concept of agropreneurship is among other theme to be discussed by participants as a move to encourage setting up of enterprises related to the farm sector targeting these specific categories such as youth and women
Building a resilient Agricultural extension system
Holding the 5th Africa-Wide Agricultural Extension Week (is a practical move to encourage a number of stakeholders including Policy makers, development partners, Implementers of programs (Public, Private, Farmers) and other actors in value chain (Marketing, Processing, Financing) to work together  in promote resilient agricultural systems.
This is done by relaying farm‐ level challenges and potential solutions to food security and sustainable food systems involving all actors across the board.
During this session, participants will have an opportunity to discuss assess available solutions oriented toward minimizing the impact of the COVID-19 pandemic and other emerging issues such as economic shocks and climate change
The 5th AAEW is a unique avenue for sharing experience and learning among professionals of different background in Africa. It will especially focus on strengthening actions not only for extension workers but also for policy makers and investors who usually put resources in the development agenda whereby stakeholders are expected to cement new partnerships.
"In the past, agricultural extension and advisory services have not been viewed favorably and its functions has been minimised in lot of countries in Africa," notes Dr. Nahdy.
"In many countries investment has been low in extension in Africa," he said noting that investment was variable with some countries like South Africa, Rwanda, Ghana and Ethiopia having high extension investment and strengthened capacities in terms of digital infrastructure, farmer supportive policies and strong linkages with research. 
In the past no African country had a policy on agriculture extension, but today according to Dr. Nahdy, most of governments in Africa now have appropriate policies for implementation including regulatory frameworks.