Food security exists when all people, at all times, have physical and economic access to sufficient, safe and nutritious food that meets their dietary needs and food preferences for an active and healthy life. According to recent estimates, the world's urban population is expected to increase from 50 to 70% by 2050. In addition to this considerable increase in population, climate change phenomena with their associated direct and indirect impact on natural ecosystems, surrounding agricultural land and food security are also expected to have a significant impact. In the process to achieve that food security, Urban Agriculture (UA) appears to be a high potential contributor. In fact, contributing to local food security by increasing the availability and accessibility of fresh and healthy produce in food insecure areas, urban agriculture has emerged as a highly recommended approach. Therefore CAMFAAS, together with its partners are disseminating some practical techniques in order to sensitize and train the community on how to optimize the potential of their surroundings, recycle their waste and produce biological food.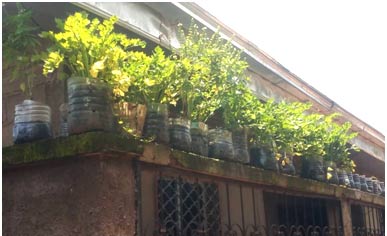 Roof top farming here illustrated enhance the urban landscape and human well-being. By cultivating lettuce, green spices and other vegetables, it literally makes cities greener. Rooftop farms help cool buildings, ultimately reducing carbon emissions. On the other hand by growing food in the communities they serve, urban farmers lessen the environmental impact of food transportation. Furthermore, more people have access to fresh, wholesome, and affordable food
On a small scale, the techniques of urban agriculture make it possible to produce sustainably in small spaces. includes  vegetable bags, vertical crops, water reserve bottles, double-bottomed tubs and pot cultivation; The production material uses -empty plastic bottles of mineral water, empty rice sacks, plastic containers recovered from the environment, contributing to the sanitation of the environment. The substrate uses decomposed organic matter (compost), the promotion of which contributes to a better management of household waste with the incidence of reducing the effects of climate change.
It is also a business opportunity for young people who have the space to produce in quantity for urban markets. They can supply restaurants, hotels, grocery stores or building tenants with fresh, organically-grown produce harvested from just feet above on their rooftop, walls and other material.