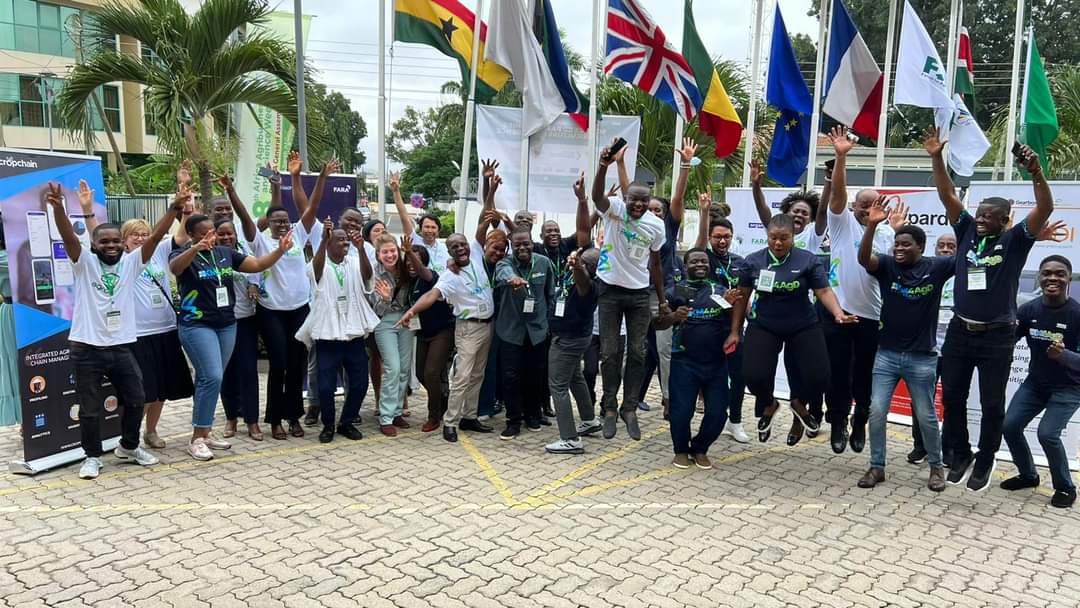 The CAADP-XP4 Consortium through the leadership of Forum for Agricultural Research in Africa(FARA), with funding from the European Union jointly and successfully held the Knowledge Management for Agricultural Development (KM4AgD) Conference 2022 edition from 14th to 16th September 2022 at Alisa Hotel, in Accra, Ghana.
The conference themed Strengthening the African Knowledge Ecosystem for achieving & Sustaining the CAADP Malabo targets 2025 brought together 28 participants from different institutions in over 19 African countries ie Uganda, Kenya, Rwanda, Madagascar, Cameroon, Malawi, Liberia, Senegal, Nigeria, Botswana, Ghana, etc. The challenge consisted of Extensionists, Researchers, Academicians as well as Media practitioners.
The purpose of the Conference was to wrap up the 2022 KM4AgD edition that was Virtually commenced on the 10th of June 2o22.
Meet the AFAAS KM4AgD 2022 Knowledge Champions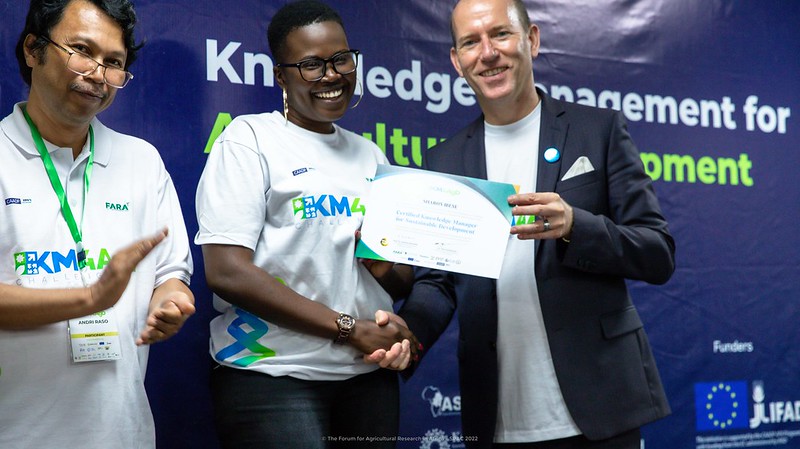 Ms. Ibenu Sharon receives her certificate awarded by Professor Andreas Brandner, the Executive Director for K4DP. On her left is the KM Specialist, Mr. Andri Raso.
Ibenu Sharon is a communications officer with extensive knowledge of media and public relations. She is enthusiastic and extremely driven to achieve positive outcomes. Having worked previously with marketing and public relations firms, Sharon climbed her way up to now the communications expert at the African Forum For Agricultural Advisory Services (AFAAS) with its secretariat based in Uganda. She is also supporting with Knowledge Management and Communications at the Eastern Africa Field Schools Support Hub that is currently hosted by AFAAS. Prior to that, She supported with projects research and communications at Kampala International University. Sharon is also a member of the Public Relations Association of Uganda (PRAU). She holds a bachelors degree in mass communication from Kampala International University and has also obtained a training on Capacity Development for Agricultural Innovation Systems Organized by FAO. Sharon is in the process of pursuing her Masters Degree in Strategic and Cooperate Communications .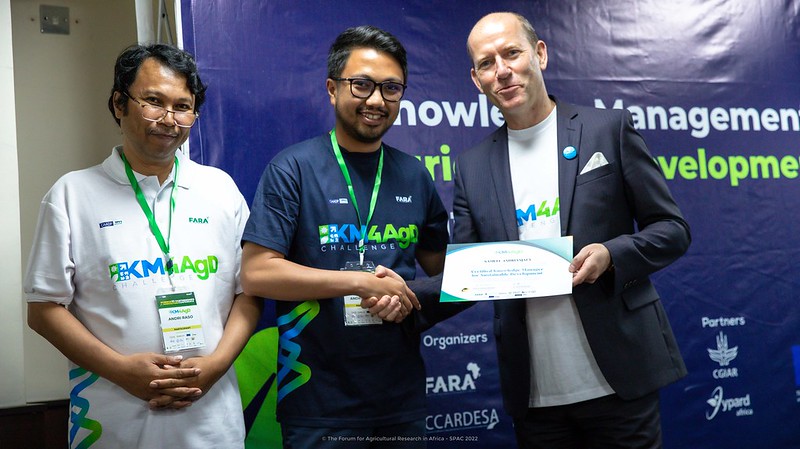 "If there must be trouble, let it be in my day, that my children may have peace", said Thomas Paine. What could I do for my country? For Africa? For future generations? "These questions have haunted me since my adolescence. And now I'm starting to get some of the answers by using my skills in communication, knowledge management, and agricultural digitalization to serve the community" says Samuel Andrianjafy who is currently the Communication, Information and Knowledge Management Facilitator for the Forum du Conseil Agricole de Madagascar (FCA), and also leading a project on the use of drones for development.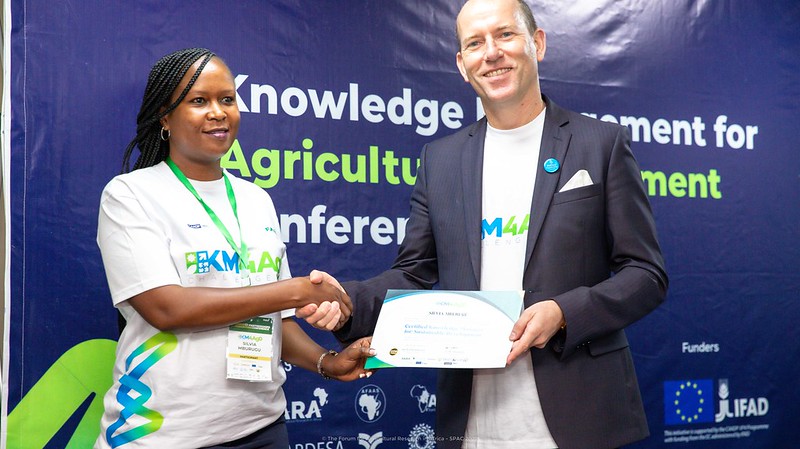 Silvia is a Communication and Knowledge Management expert with over 10 years' experience in managing integration and implementing projects for non-profit organizations. In addition, has corporate communications, public relations, writing and editing media relations having worked with diverse communities. Currently as the communications Information and Knowledge Management Facilitator at Forum for Agriculture Advisory Service -Kenya (KeFAAS), has been dependable and resourceful professional adept at organizing and facilitating programs on Knowledge Management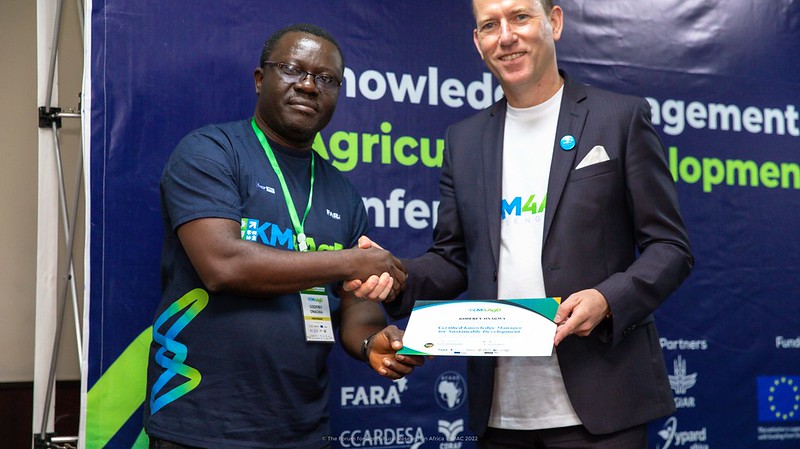 Dr Godfrey Onagwa, receives his certificate awarded by Professor Andreas Brandner, Executive Director at K4DP
He is the chief communication specialist and strategist working as CIKM at the Nigerian Forum for Agricultural Advisory Services, Nigeria. He holds a Masters in Publishing and Copyrights Studies and a PhD in agricultural development communication. His career path since 2004 is in the areas of media and publishing, communication, knowledge management, agricultural advisory and strategic business communication. He also teaches postgraduate courses and supervises student dissertations at the Centre of Excellence for Development Communication, Ahmadu Bello University, Zaria, Nigeria.[/caption]
The Knowledge Management for Agricultural Development 2022 initiative.
The Knowledge Management for Agricultural Development (KM4AgD) is a joint initiative of the CAADP-XP4 organizations (African Forum for Agricultural Advisory Services (AFAAS), Association for Strengthening Agricultural Research in East and Central Africa (ASARECA), West and Central African Council for Agricultural Research and Development (CORAF) and Forum for Agricultural Research in Africa (FARA)) with technical support from the Knowledge for Development Partnership (K4DP). The initiative is a lighthouse project for knowledge-based development in agriculture within Africa. It takes place annually in a growing number of countries. The climax for each annual three months Challenge is a KM Conference (hybrid) where participants are expected to present their countries/organizational Knowledge management strategies, receive certificates as Knowledge Management Agents for Sustainable Development, inducted into the Africa KM4AgD Community of Practice and as Fellows of the Knowledge Center, and network with the wider KM global Community.
This years conference marked the second edition of the challenge with its first being lauched in 2021 with 30 participants from 28 countries fully graduating as certified Knowledge Managers. The 2022 participants developed their organizational Knowledge management strategies as well participated in five challenges which included;
African Union Commission (AUC), C

AADP-XP4

and CGIAR Knowledge Management

Framework For Agricultural Research Development in Africa

,

Advanced Knowledge Processes

;

Traditional Knowledge and Fake News

,

Knowledge Inclusion: Gender and Disabled Rural

dwellers?

Knowledge Partnerships and Resource Mobilization

Knowledge hub and Digitization for Agricultural Advisory and outreach.
During the conference, participants from different institutions i.e. AFAAS, ASARECA, CCARDESA, CORAF, One GGIAR, Ministry of Agriculture, etc, were opportune to present their draft country's/organization's draft KM strategies and briefs for endorsement. The participants were then awarded certificates as "Certified Knowledge Agents for Sustainable Development for their unwavering commitment towards the course. They were also inducted as Fellows of the Africa KM4AgD Community of Practice for Artificial Intelligence and Centre of Excellence for KM and network with the wider KM Global Community.
Mr. Andri Raso , the Knowledge Management Specialist at AFAAS shared with the participants the AFAAS Knowledge Management Strategy and emphasized the need to deliberately get the knowledge to the last mile so that farmers are able to make informed decisions.
Prof. Andreas Brandner, the Executive director, Knowledge for Development Partnership (K4DP) urged the participants to continue with the agenda and that it should not end within the conference but rather share the Knowledge management message with with every one if we needed to achieve the main goal.
Mr. Benjamin Abugri, the FARA Lead KM specialist, reiterated that the KM4AgD is a lighthouse initiative and that KM is not an environment for competition but for innovation. He also highlighted that this year , Over 19 countries were capacitated at national level as far as knowledge management was concerned.
Mrs. Bridget Kakuwa-Kasongamulilo, CCARDESA ICKM officer, shared the CCARDESA knowledge management agenda and emphasized the need to ride on existing technologies such as the CCARDESA Mobile App as an extension tool to reach the last mile .
Mrs. Gadzeni Malenga the Program Management Consultant AR4D at IFAD noted that IFAD pays serious attention to knowledge management and its committed to supporting the initiative