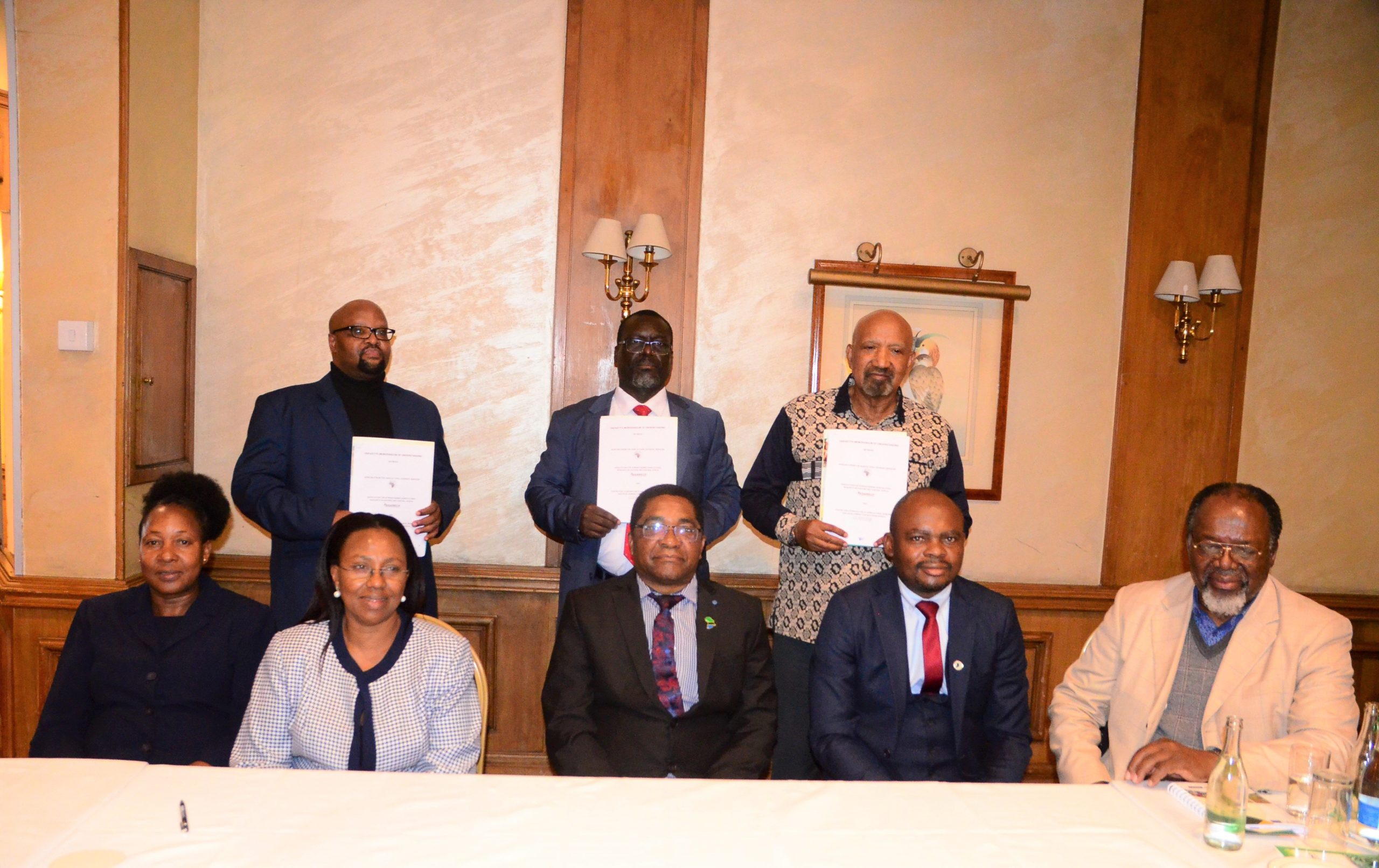 The African Forum for Agricultural Advisory Services (AFAAS),The Association for Strengthening Agricultural Research in Eastern and Central Africa (ASARECA) and the Centre for Coordination of Agricultural Research and Development for Southern Africa (CCARDESA),have signed a Tripartite Memorandum of Understanding (MoU) to strengthen their collaboration on improving Agricultural Research for Development (AR4D) in Eastern, Central and Southern Africa. The Executive Directors of the three organizations: Dr. Silim Nahdy (AFAAS), Dr. Enock Warinda (ASARECA), and Dr. Cliff Dlamini (CCARDESA)signed the Tripartite MoU during a strategic meeting held at Hilton Hotel, Nairobi on 3
rd
June, 2022.The three organizations agreed to develop a partnership strategy and collaborative framework to operationalize the MoU whose implementation will be coordinated by Dr. Cliff Dlamini. The signing ceremony was officiated and supported by the Chairpersons of the Boards of Directors: Mr. Paul Fatch (AFAAS), Dr. Geoffrey Mkamilo (ASARECA); and selected Board Members of the three organizations: Dr. Jeff Mutimba (AFAAS), Prof. Patience Mshenga (ASARECA), Dr. Catherine Senkoro (CCARDESA), and Mr. Isaac Chiundira (CCARDESA). The purpose of the MoU is to provide a framework for strong partnership and collaboration among the three organizations to enable them serve their clients with distinction both individually and collectively as well as enhance synergy and harmonized programming of AR4D initiatives. The three organizations agreed to implement cooperation initiatives in the following areas:
Commissioning of joint studies to inform policy and practice, and sharing results in relevant fora;
Development of joint programmes and strategies for agricultural research for development and extension services to enhance impact at scale;
Undertaking joint planning, implementation, monitoring, evaluation, sharing of lessons learnt and response to issues relating to projects that are being implemented jointly by the Parties;
Undertaking joint advocacy and influence for desired AR4D policy changes;
Conducting institutional consultations to improve operational and economic efficiency;
Sharing of capacities, technical information and general information using established mechanisms among the Parties; and
Convening joint proposal writing and resource mobilization.
The MoU will remain valid for a period of 10 years and will be extended for further periods as agreed among the Parties. Amendments to the MoU will be made as and when necessary.