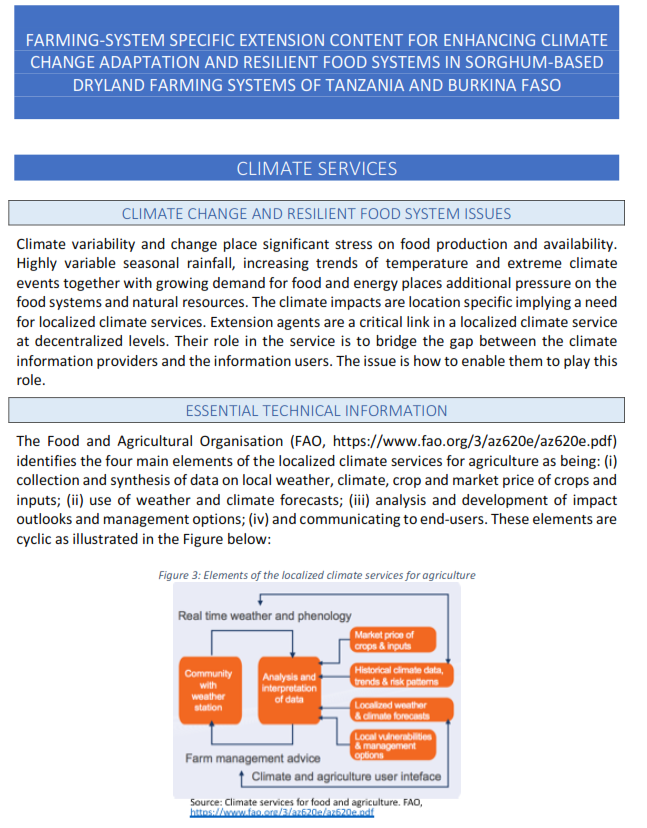 FARMING-SYSTEM SPECIFIC EXTENSION CONTENT FOR ENHANCING CLIMATE CHANGE ADAPTATION AND RESILIENT FOOD SYSTEMS IN SORGHUM-BASED DRYLAND FARMING
FARMING-SYSTEM SPECIFIC EXTENSION CONTENT FOR ENHANCING CLIMATE CHANGE ADAPTATION AND RESILIENT FOOD SYSTEMS IN SORGHUM-BASED DRYLAND FARMING SYSTEMS OF TANZANIA AND BURKINA FASO
CLIMATE SERVICES
CLIMATE CHANGE AND RESILIENT FOOD SYSTEM ISSUES
Climate variability and change place significant stress on food production and availability. Highly variable seasonal rainfall, increasing trends of temperature and extreme climate events together with growing demand for food and energy places additional pressure on the food systems and natural resources. The climate impacts are location specific implying a need for localized climate services. Extension agents are a critical link in a localized climate service at decentralized levels. Their role in the service is to bridge the gap between the climate information providers and the information users. The issue is how to enable them to play this role.
ESSENTIAL TECHNICAL INFORMATION
The Food and Agricultural Organisation (FAO, https://www.fao.org/3/az620e/az620e.pdf) identifies the four main elements of the localized climate services for agriculture as being: (i) collection and synthesis of data on local weather, climate, crop and market price of crops and inputs; (ii) use of weather and climate forecasts; (iii) analysis and development of impact outlooks and management options; (iv) and communicating to end-users. These elements are cyclic as illustrated in the Figure below:
Figure 3: Elements of the localized climate services for agriculture
Both Burkina Faso and Tanzania are implementing national frameworks for climate services to improve the availability and use of tailored weather and climate services necessary to strengthen resilience to climate change and extreme weather. In Tanzania implementation of the framework is led by the Tanzania Meteorological Agency while in Burkina Faso
implementation is led by the General Directorate of Meteorology. In both cases, different sectors of government and society are embraced in order to increase coordination and facilitate cross-cutting action and informed decisions.